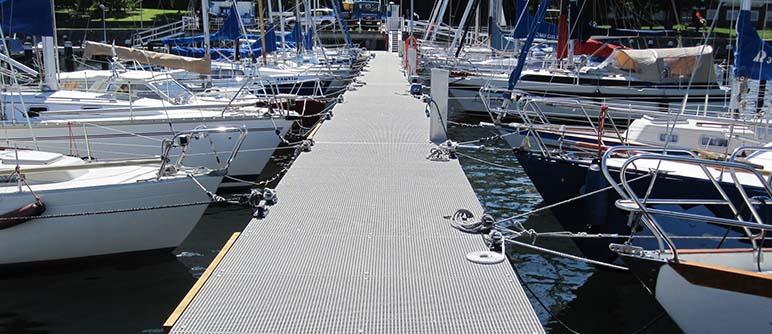 GRATINGS FOR JETTIES
MOST BOATS ARE MADE FROM GRP –
WHY NOT JETTIES TOO?
GRP gratings for jetties

More and more jetties require renovation as a result of their age, weather effects, backlog of repairs or for safety reasons.
In some cases, replacing the rotting wooden walkway surfacing or the rusted steel grating with our GRP gratings is sufficient. However, in addition to no longer looking good, these ageing jetties can also pose an increased risk of accident.
Be it access bridges, jetties or mooring booms (mooring fingers), GRP gratings are used as walkway surfaces in a wide range of areas. With its high corrosion resistance and subsequent long lifespan, GRP (glass-reinforced plastic) has proven to be a genuine alternative to conventional materials.
GRP construction profiles also have the same positive properties and are therefore ideally suited as supporting substructures.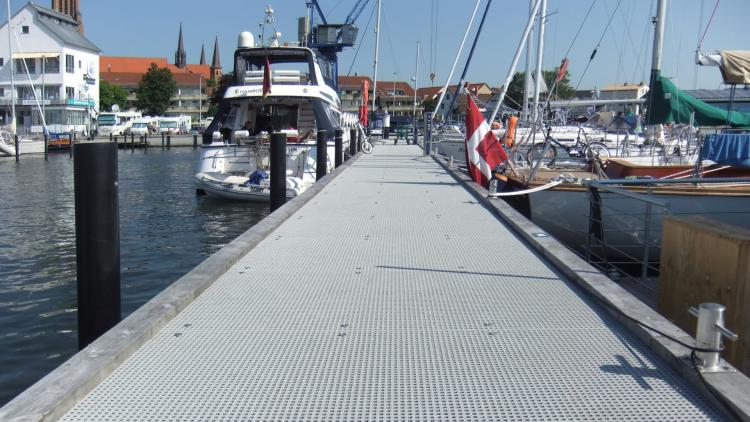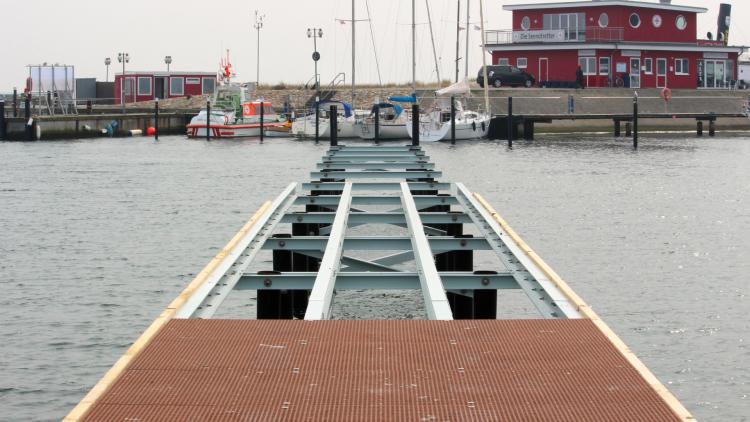 Simple processing

Thanks to the simple processing of GRP, similar to wood, an existing facility can be renovated quickly and simply. If the supporting substructure is still intact and only damaged parts of the surface need to be replaced, this can be carried out using GRP gratings.
Depending on the type of usage of the jetty, there are various mesh sizes available. In industrial areas, mesh sizes of 40x40 mm are generally used, while in pleasure craft harbours and marinas, gratings with a smaller mesh size of 20x20 mm or 8x8 mm are used.
In general, the smaller the mesh, the greater the comfort in moving. The finely sanded surface provides optimal slip resistance and ensures that snow and ice break and fall away when stepped on in wintertime.
So why not take a step into the modern era? Place your trust in the material which, in most cases,even your own boat is made of. It's based on a solid foundationgan
Benefits of GRP
Extremely resistant to corrosion and seawater
High strength with low weight
No corrosion or decay
Anti-magnetic, no sparking
Slip-resistant with high moving comfort
Long lifespan
Minimal maintenance costs
Simple installation